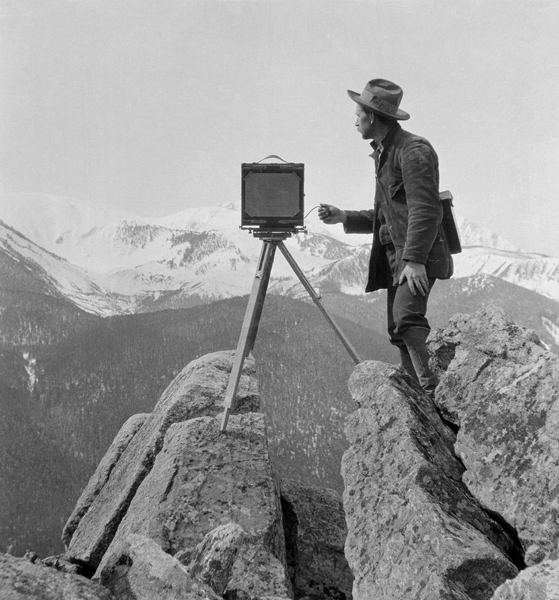 The Schlechten Collection contains over 10,000 images and features the work of three photographers spanning two generations. Beginning in 1900 the Schlechten brothers, Alfred and Albert, established a photo studio in Bozeman, Montana. The studio business was continued by Alfred's son Chris following World War II until his death in the late 1970s. The museum purchased the collection from the Schlechten family in 1980.
Albert Schlechten (1876-1962) - Albert Schlechten initially established a portrait photography studio with his brother but he spent most of his time and efforts on location and landscape photography. Shortly after his move to Montana in 1900, Albert purchased an 11x14 in. field camera and began photographing the mountains, rivers, lakes and farmland around Bozeman. His scenic landscapes also include a series taken in Yellowstone National Park using the large format camera. The Museum of the Rockies Photo Archive collection contains over 175 original 11x14 inch negatives taken from approximately 1905 to 1925. In 1922 Albert sold his photography business to Bertil Linfield and purchased several wheat farms near Bozeman. Albert's farming efforts were ultimately unsuccessful due to the 1920s drought. He sold his farm property in 1929 and started another photography studio, "Central Studio," in Anaconda, Montana. He sold the Anaconda studio in 1946 and retired from the photography business.
Alfred Schlechten (1877-1970) - In 1900 Alfred moved to Bozeman, Montana with his brother Albert. The two brothers purchased the Bozeman photography business of Grant and Tippet and operated the studio under the name of "Schlechten Brothers." The brothers established separate studios around 1910. Alfred Schlechten, the younger of the two brothers, ran the studio portrait business in Bozeman, Montana from 1900 until the 1940s. Unlike Albert, Alfred worked almost exclusively in the studio doing commercial portraiture.
Chris Schlechten (1911-1979) - The son of Alfred Schlechten, Chris grew up in a photography family. From a young age Chris learned the techniques of studio portraiture from his father Alfred and landscape photography from his uncle Albert. While in school at Montana State College in 1933, Chis and several friends created a now infamous "spoof" college annual. The humorous publication got them temporarily expelled and the few surviving copies are now sought after collectors items. In the 1930s Chis ran a photography business in West Yellowstone, Montana and photographed extensively in Yellowstone National Park. He took over the family photography studio in Bozeman in the 1940s. Chris Schlechten soon established a reputation for his portraiture, winning several awards during his career for his photographs from the Professional Photographers of America (PPA). Chris enjoyed teaching others about photography and his studio became a training ground for young photographers eager to learn his techniques.